One of the most unapologetic charms of Byron Bay is without a doubt the diversity of villages and experiences dotting the Byron Bay hinterland and seaside. This is the day trip destination.
There are places to visit near Byron Bay that showcase natural beauty, put the therapy in retail therapy and take your taste buds on a journey of local flavours and world-class talent.
There is an art to day tripping that includes having enough time to relax, explore and discover things that leave you in awe.
In this guide we're going to share some of our favourite day trips (they also make unforgettable day date ideas for couples). We've designed them to include a little bit for everyone, from delicious dining, unforgettable natural or action attractions, wellness experiences and the perfect places to shop.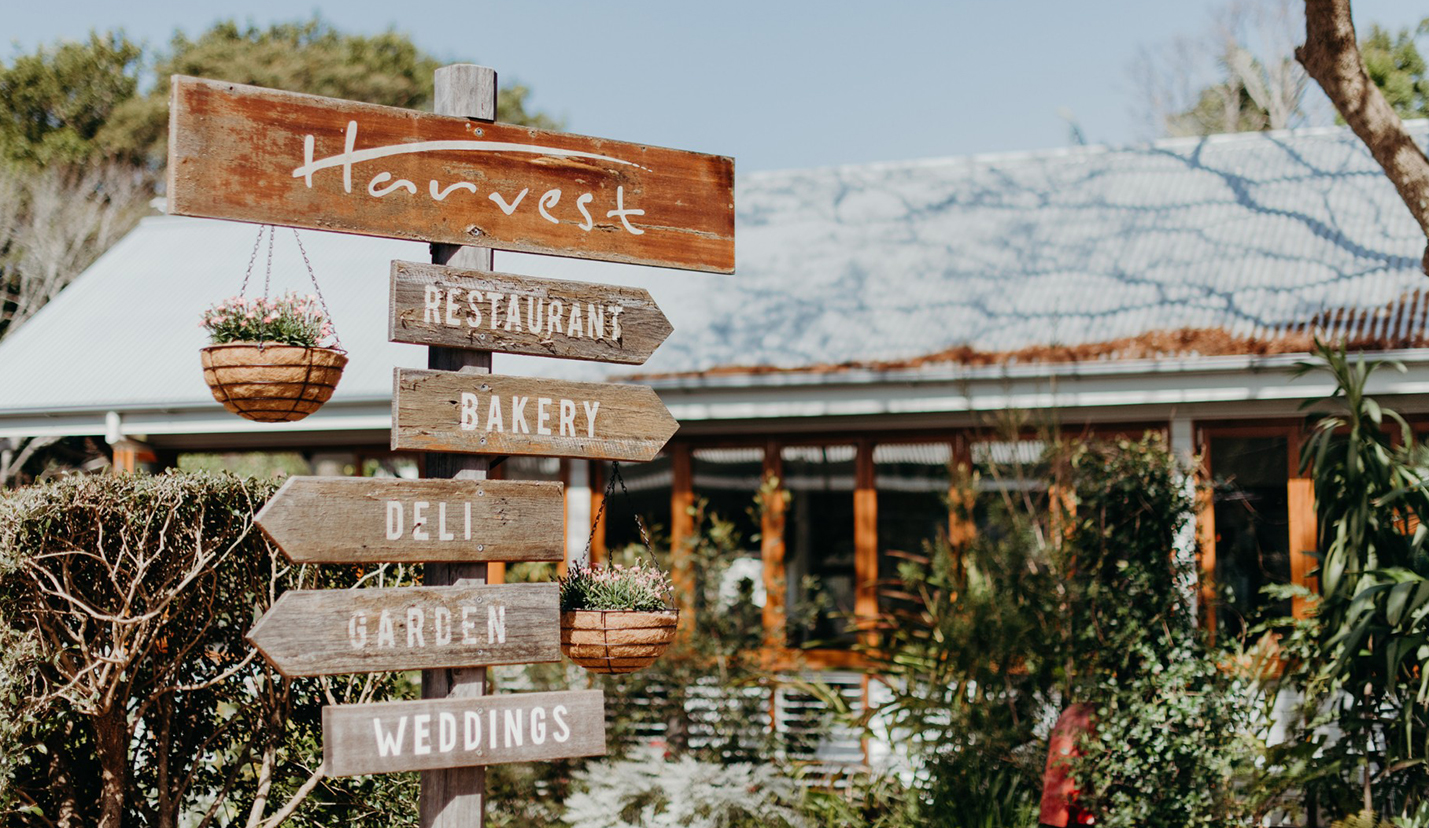 Bangalow and Newrybar Day Trip Itinerary
45 minutes' drive time return trip | 45km
There are plenty of romantic things to do in Bryon Bay, but a couple's day trip is at the top of our list. Just 22 minutes' west of Cape Byron Retreat lies the history and rustic elegance of Bangalow. We love the traditional village high street lined with impeccable cafes, restaurants and boutiques.
While in Bangalow, your first stop has to be Woods for a coffee and breakfast in the beautiful outdoor space where you'll feel the warmth of community beating proudly. Walk off breakfast with some window shopping amongst the talented local designers like Rowie, Andean Collective or Bisque Traders.  
If it's Saturday, get your coffee to go and wander the stalls of the Bangalow Farmers' Market, located just behind the village's historic pub. You'll have the chance to speak to the passionate blueberry and apple farmers or gifted artisan pasta makers. 
Before you leave Bangalow you'll need to take a seat at Ciao Mate. This restaurant is a little bit rustic Italian and a little bit Byron hip rolled into a menu of fresh seafood pasta, unforgettable pizzas and sandwiches worth savoring. 
On the 10-minute trip to Newrybar, stop at The Clay Barn to add a little hands-on, artistic appreciation to your itinerary. This ceramic studio offers pottery classes and courses surrounded by fruit tree orchards and rolling hills.
Hit Newrybar Merchants and The Old Pacific to discover a collective of local artisans and curators of fine goods that honour the essence of Byron Bay's rustic charm.
Just 14 minutes south you can lace up and explore the last remains of the big scrub rainforest that once blanketed the region along the Killen Falls walk. A stunning viewing platform is a 660m return walk, but the base of the falls is a 'wow' moment.
The base walk is a 1km return, grade 3 bush walk. You'll find yourself in a natural oasis where the sound of crashing water kisses your ears and lush foliage hugs the rock walls.
Find out more about our favourite waterfalls here.
After exploring waterfalls, head back into Newrybar for a well-earned dinner in one of Byron Bay's best restaurants. Harvest offers a sense of romance and tangible warmth in the decor and crop to plate cuisine that stops conversation.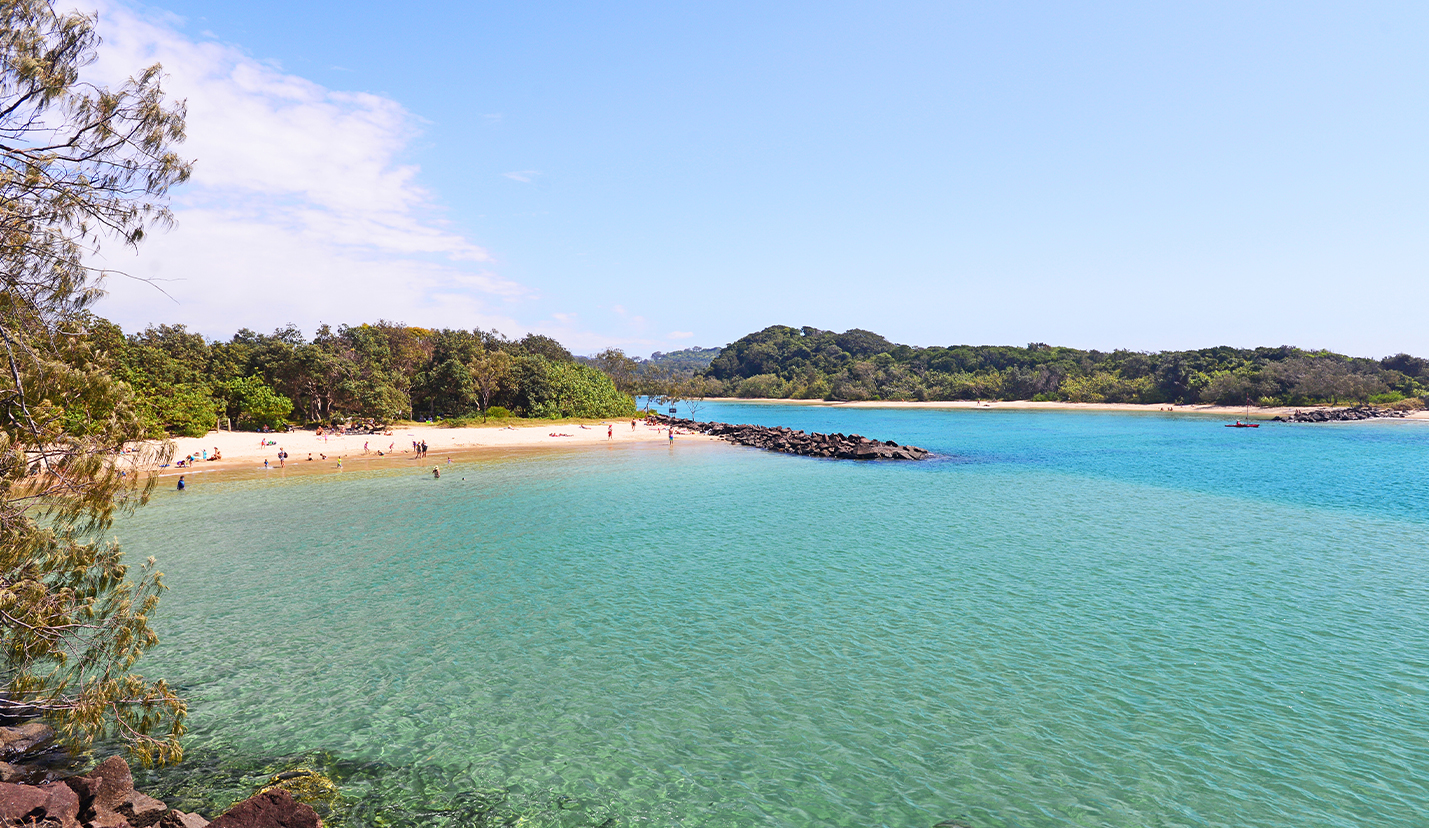 Brunswick Heads Day Trip Itinerary
45 minutes' drive time return trip | 43km
Brunswick Heads is an unspoilt village that exudes easy coastal cool from its enviable location at the mouth of the Brunswick River, just 23 minutes from Cape Byron Retreat. 
Tuck into a breakfast of local coffee and perfectly poached eggs on rye with charred capsicum, haloumi and spicy harissa at an outdoor table under a sun umbrella at the Footbridge Café (open from 6am).
Hear stories of local history and nature while you paddle through the peaceful waters of the Brunswick River. Spot turtles, river rays, fish and even dolphins then stop for a swim and snack on the riverbank.
It's time to explore the truly eclectic mix of retail offerings the village has to offer. Hunt for treasure in Fabulous Mrs Fox's collection of vintage and new clothing, homewares, furniture and gifts.
If you're thinking of a light lunch, head to the Ethel Food Store for inspired salad bowls and homemade deli amazingness. Or for something more substantial head to the red-checkered tablecloths of Saint Maries for cute cocktails and absolutely perfect pizza dough. 
After lunch it's time to get creative (and a little dirty) at Wheel of Life. This light-filled studio in the heart of Brunswick Heads offers hand building clay workshops on the first Saturday of every month.
Our dinner recommendation can only be described as the home of joyful dining. Imagine a place of great wine and relaxed French-kissed cuisine like ricotta and chard ravioli in walnut cream or market fish and Madagascar bean cassoulet. It's no wonder Cadeau is named with the French word for gift.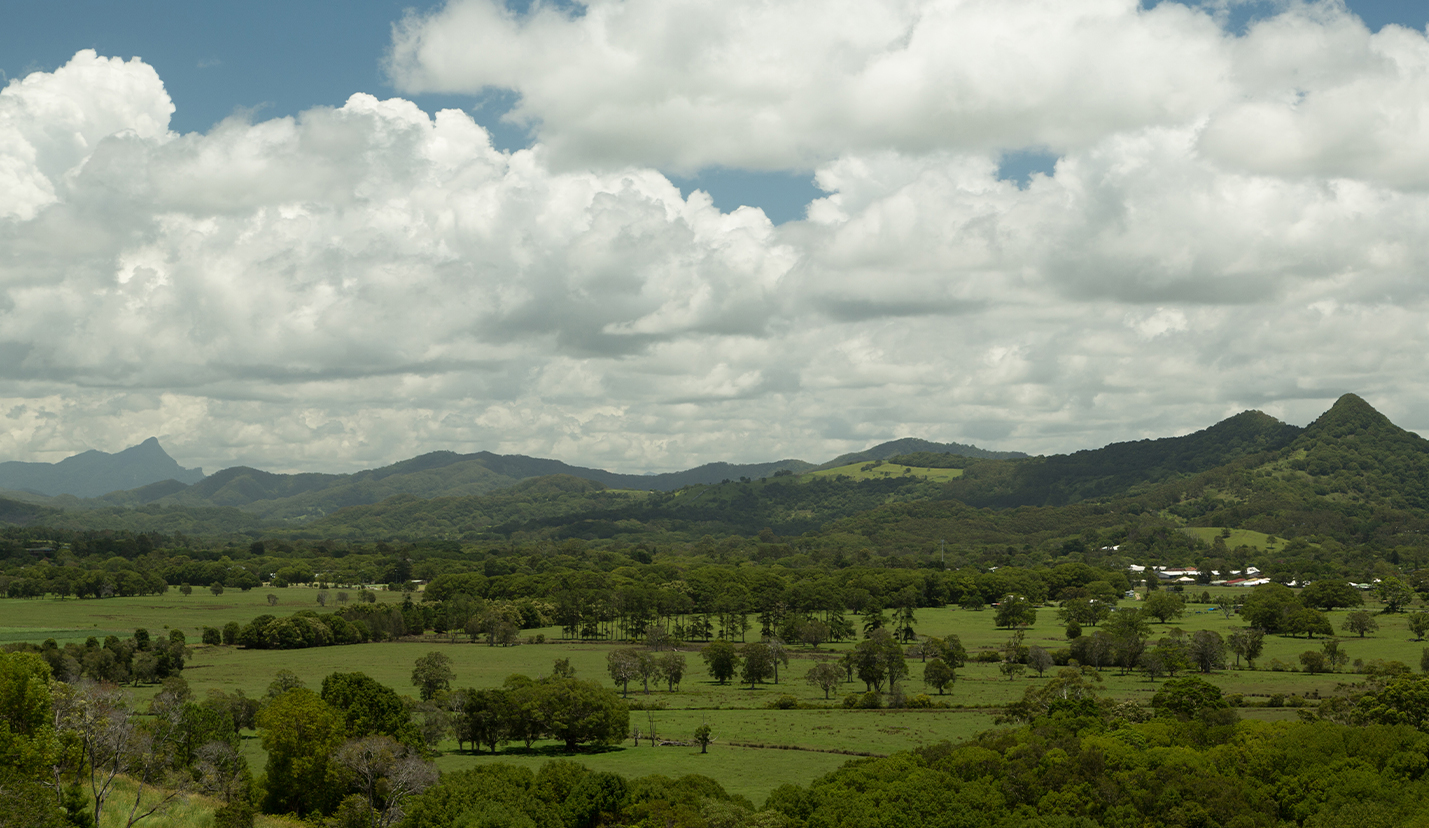 Mullumbimby and Federal
2 hours and 25 minutes' drive return trip | 105km
We love the juxtaposition of this day trip – the unequivocal quaintness of Federal's country lifestyle and the sheer individuality of the capital of Byron Bay's counter-culture, Mullumbimby.
Let's begin in Federal, 29 minutes west of Cape Byron Retreat. Doma Cafe is our pick for breakfast. We love the crispy Rakkenji seed bread, cherry tomatoes and house labneh. 
That should fuel you up for an exploration of The Hills Emporium. Owned by Kaidee and Bulan this lifestyle concept store is an expression of the couple's eye for design and dedication to local artisans who help fill their shelves with pottery, fashion, jewellery, homewares and furniture. Watch out for creative workshops.
Before heading to Nightcap National Park, we highly recommend a cuppa from Moonshine Coffee Roastery and Cafe.
Now you're all set for the 40-minute drive to the Minyon Falls walking track in Nightcap National Park.
Minyon Falls is a plunge waterfall on Repentance Creek, reached by a grade 3 walk through rainforest. The walk offers stunning views of water flowing more than 100 metres over huge rhyolite cliffs.
Find our more about Minyon falls and other great walks and waterfalls here: https://capebyronretreat.com/byron-bay-walks-and-waterfalls/
After your hike, enjoy a scenic 55-minute drive to 'The Biggest Little Town in Australia', Mullumbimby. The main street is teeming with dynamic boutiques and cafes, including Punch and Daisy. 
Punch and Daisy offers everything from classic beef cheeseburgers to wild caught swimmer crab and fish cakes served on big wooden tables with healthy sips of beer, wine or cocktails.
After lunch a short 9-minute drive from Mullumbimby will land you at the Crystal Castle and Shambhala Gardens. A celebration of Byron's innate mindfulness and natural energy amplification.
Stand between two of the tallest crystals on earth, sit inside an ancient amethyst cave, let your mind unravel as you wander the gardens or soak in a crystal sound healing session.
Returned to your Cape Byron Retreat sanctuary with an open mind and heart.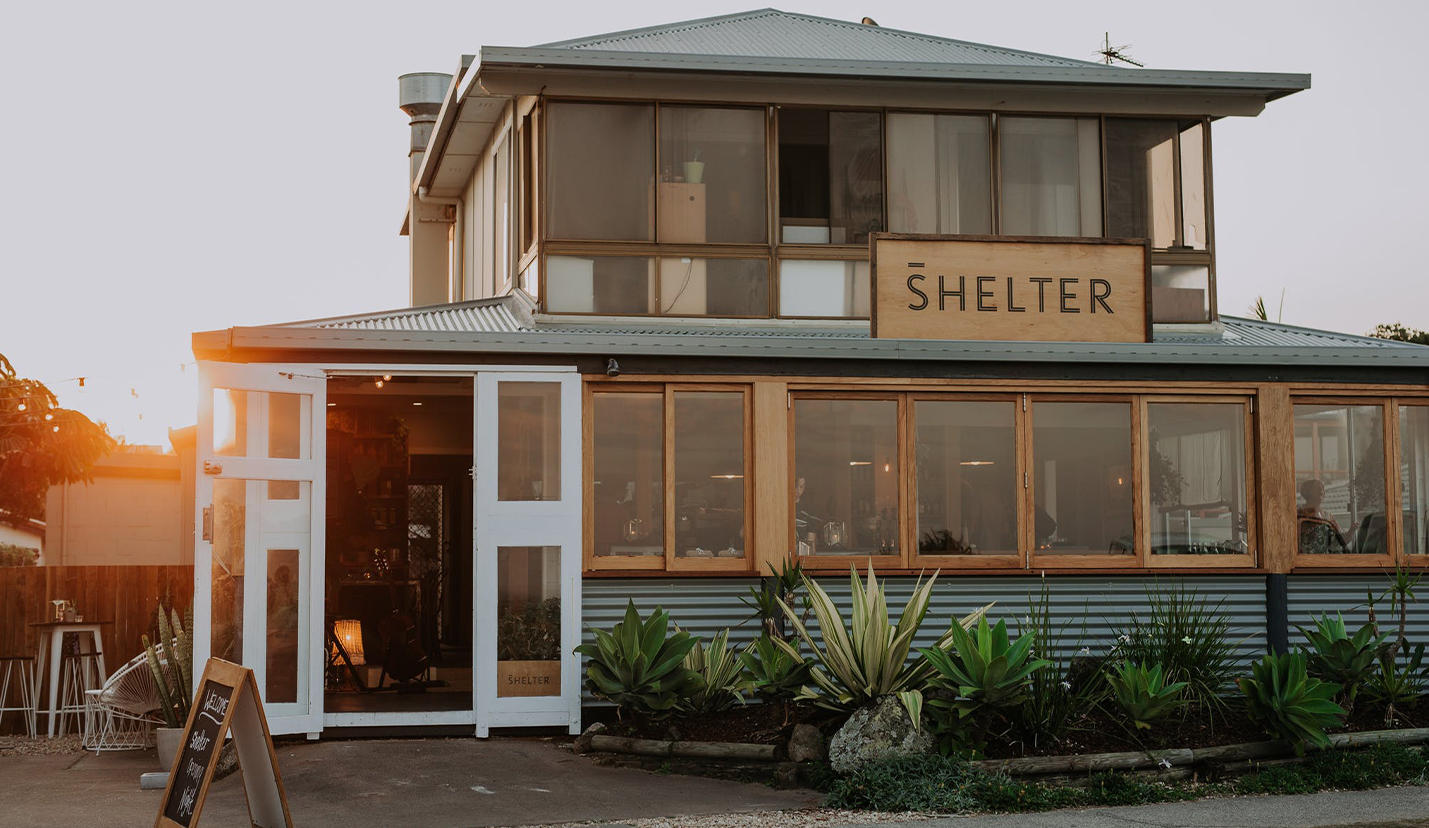 Lennox Head
1 hour and 12 minutes' drive round trip | 74km
We move away from the hinterland for our next day trip, just 25 minutes south of Cape Byron Retreat you'll find yourself in the vibrant coastal village of Lennox Head.
We recommend leaving breakfast to the experts in ethical, seasonal and local produce at Shelter. Shelter makes you feel at home while filling your belly with light banana bread served with tahini or gooey poached eggs on the best sourdough bread you've ever tasted.
This day trip includes a longer but seriously unmissable walk. You can begin in Ballina (12 minutes' drive away) and take in Richmond River views, historic buildings and then the dramatic view of the pounding river mouth as you climb the top of the red cliffs towards Lennox. Alternatively, you can start from Lennox Head and do it in reverse.
The full walk is almost 12 kilometres and takes approximately 4 hours, however there are multiple access points along the way should you wish to shorten it. Learn more about this walk and others here (https://capebyronretreat.com/byron-bay-walks-and-waterfalls/).
Our lunch time hot spot is a Lennox icon. Williams Street Kitchen and Bar is so perfectly Lennox with its casual and incredibly warm atmosphere. Sandy feet and furry friends are welcome, with live music on the weekend..
Time to hit the streets for some retail therapy. Start at The Book Room Collective, an independent, locally-owned book store where the team of voracious readers curates every book on the shelves and will happily help you find the perfect read.
Browse shelves lined with jars of wholefood goodness, natural body products and household products at Seed and Husk, picking up some snacks before the five-minute trip to Lake Ainsworth.
Called Tea Tree Lake by most of the locals, this expanse of freshwater is enriched with natural tea tree oils. Hire a paddle board and explore or indulge your skin and hair with a swim.
Or wind down by surrendering to the professionals at advanced skincare salon, Skin and Clay. Choose from highly technical skin therapies to indulgent full body rituals.
Our Lennox Head dinner recommendations have Italian roots. At The Diner you'll find Martin's weekly menus are solely-driven by seasonality, the freshest produce and his Bergamo heritage.
For a touch of casual elegance, head to Quattro Classic for beachfront Italian. Award-winning wood fired pizzas and local seafood are washed down with quirky cocktails in comfy chairs on the cool deck.
Bid your hosts Buona Notte and take the short trip home to the mindful comfort of your Cape Byron Retreat sanctuary.
With a little bit of nature, indulgent wellness, relaxing retail and glorious food on every itinerary, you could easily turn your Cape Byron Retreat holiday into a day trip exploration of the whole Byron Bay Region.