Shopping in Byron Bay isn't just a pleasurable pastime but a treasure hunt with purpose. Byron Bay boutiques offer a journey through the stories of local designers and artisans.
You'll find gifts that guarantee a smile or clothing, fashion, action and wellbeing goodies that create souvenirs of beauty and practicality.
There's no better way to take a piece of Byron Bay home with you, then hunting for that perfect piece to remember your time by.

Think floaty bohemian goddess dresses, edgy beachwear and truly one of a kind, handcrafted pieces that you'll wear again and again. Here's some handpicked Byron Bay clothing stores to love.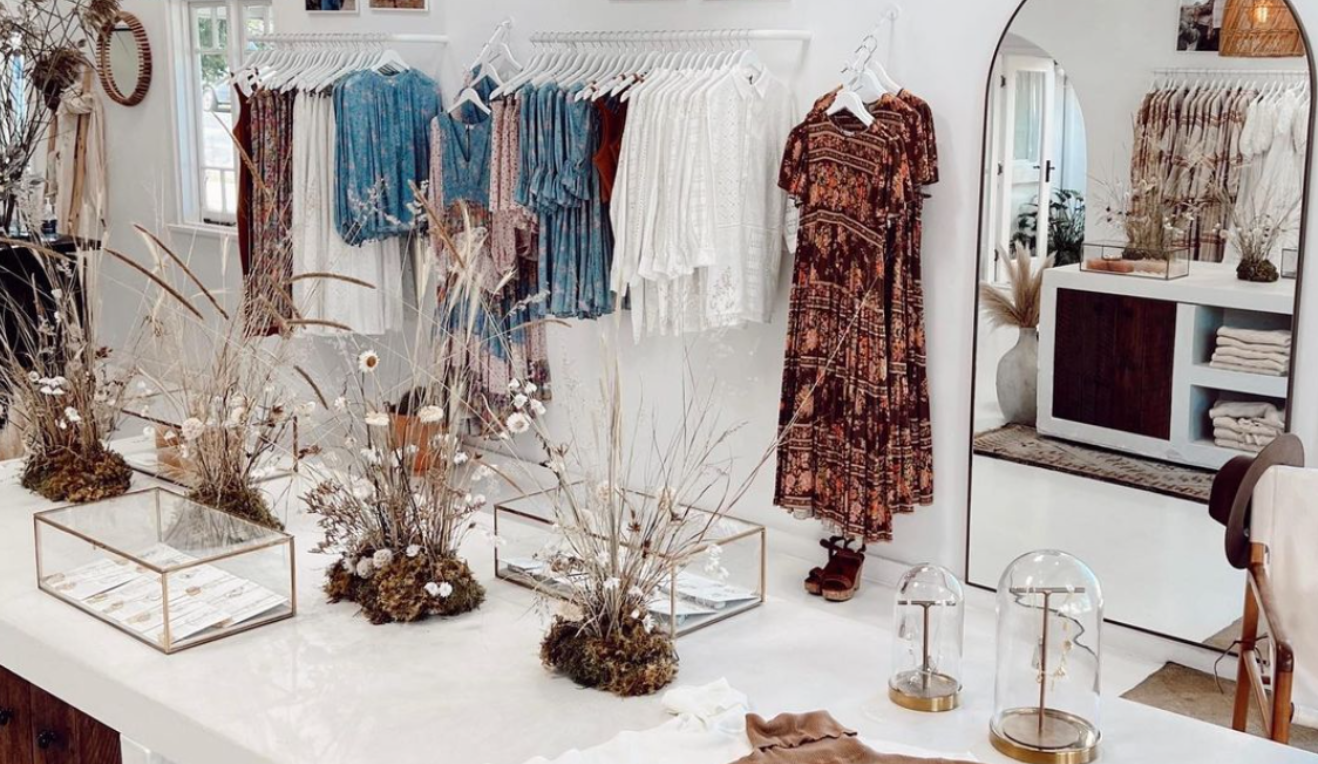 15 Browning Street, Byron Bay
Open 7 days, 10am-5pm
An icon of Byron Bay shopping and fashion, Spell is a sanctuary of floating femininity, colours, prints and textures delivered in conscious fashion. Visit the sweet white Spell cottage and uncover treasure through the 200 year-old Moroccan doors.
1 Porter Street, Byron Bay
Open Mon – Fri, 9.30am-4pm; Sat – Sun, 10am-2pm
Welcome to an emporium of beautiful things by local, independent brands. Take home a luxe cane hanging chair to create a wellness space, try on one of a kind denim or statement concept jewellery. We love this luxe industrial setting.
4 Acacia Street, Byron Bay
Open Mon – Fri, 9am-5pm; Sat 9am-4pm and Sun 10am-3pm
Lara and Matt Fells founded St Agni in 2014 to make refined pieces that they couldn't find on shelves. Today their women's clothing and accessories are a balance of progressive elevated tailoring and nonchalant sophistication. St Agni definitely has a little edge.
10A/11 Banksia Drive, Byron Bay
Open Mon – Fri, 9am-4pm; and Sat 10am-4pm
If you're looking for essential swimwear or casual everyday cool clothing then sisters Candice and Karla Rose have poured everything they love about their Byron Bay home into this modern women's fashion and lifestyle brand.
Shop 1, 1 Marvell Street, Byron Bay
Open Mon – Sat, 10am-5pm; and Sun 10am-4pm
1/10 Station Street, Bangalow
Open 7 days, 10am-3pm
Rowie Moore began selling handmade pieces of women's fashion at local markets. Today her artisanally-crafted clothing pays homage to Byron Bay's unique effortless style while transcending international borders and seasonality. Be inspired by local designers and take a little piece of Byron Bay's iconic style home with you.
Byron Bay homewares are lavish in their intrinsically coastal aesthetic, raw beauty and honest functionality. Here are our favourite shops in Byron Bay where you'll find furniture, homewares and gifts that bring joy and wellness in any space.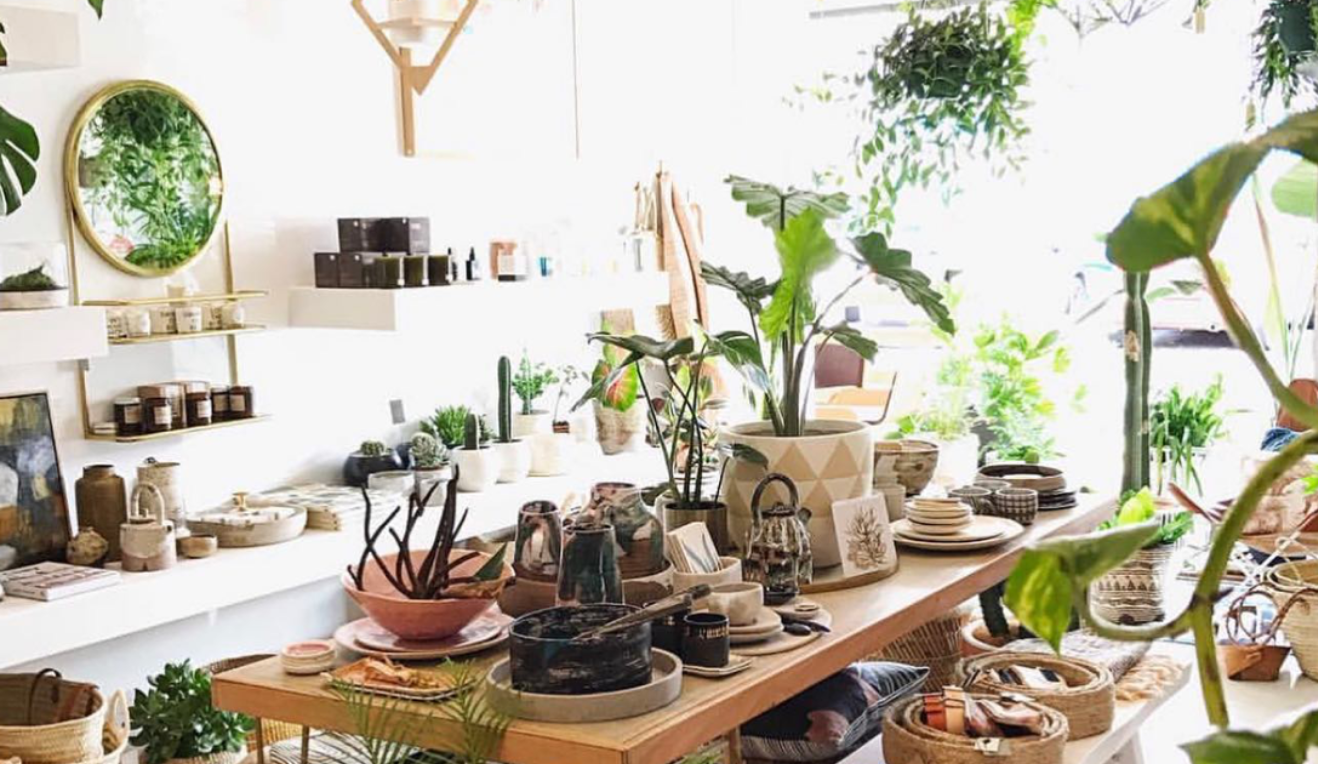 2/30 Fletcher Street, Byron Bay
Open 7 days, 10am-4pm
This botanical and clay emporium is the love child of Nikki Ogilvy and Nicole Steele, two passionate creatives obsessed with all things green, floral and ceramic. Pick a piece of unique pottery that is both raw and refined, or cushions, throws and adornments that add soul to loved spaces.
2/20 Fletcher Street, Byron Bay
Open Mon – Sat, 10am-5pm; and Sun 10am-4pm
Founded by Melinda Maguire, Hope & May is a curated collection of goodies that marries laid-back beachy joy with global bohemian vibes. Coffee table books that spark conversation, uncomplicated dresses for uncomplicated compliments and homewares that add a true sense of home. 
2/1 Marvell Street, Byron Bay
Open Mon – Sat, 10am-5pm; and Sun 10.30am-4.30pm
If you need to show your walls some love, then we recommend stopping at Liberty. Inspired by the discovery of different aesthetics through travel, Liberty features unique prints, mirrors and hanging planter books as well as organic baby skincare.
Whether you ride your first wave during your stay or spend it exploring Byron's beaches and breaks, surf shops in Byron Bay offer elite boards that will always remind you of your connection to this special place.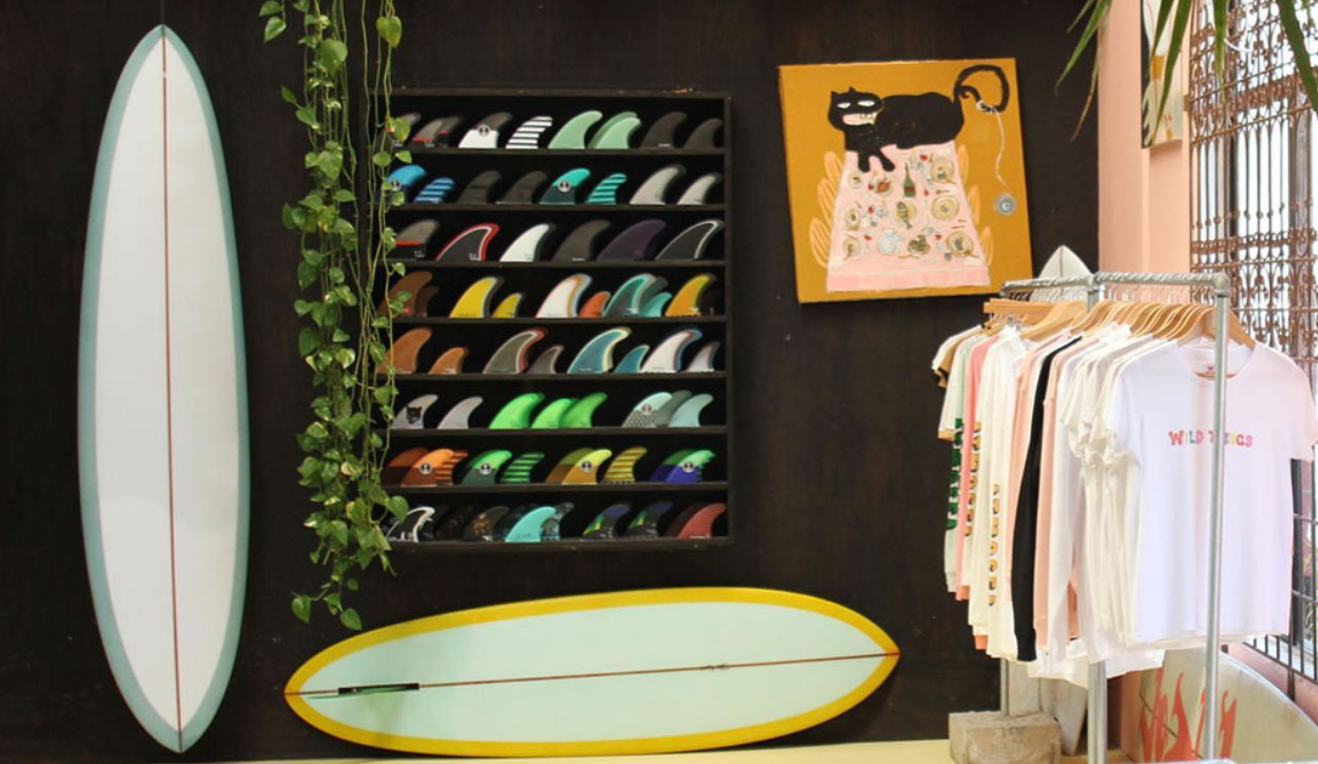 1/93 Centennial Crescent
Open Mon – Fri, 10am-5pm, Sat 10am-3pm; Sun 10am-2pm
We love visiting this gallery, even if just to drink in the sights. The retro cool space not only offers a full range of surfboards, wetsuits, fins and accessories but also showcases art, photography, design and music. Check out their Surf Club in case you're in town for a bi-monthly surf competition.
91 Centennial Crescent, Byron Bay
Open Sun and Mon, 10am-2pm; and Tues – Fri, 7am-5pm
Bob and Ben McTavish have a century of surfboard design pedigree between them, and still surf themselves around 300 days a year. They design apparel with the surfer's daily ritual in mind and custom build everything, from short boards to huge gliders.
3 Banksia Drive, Byron Bay
Open Mon – Fri, 9am-5.30pm; Sat 9am-4pm; Sun 10am-3pm
This family-owned surf store originated in Sydney and now calls Byron Bay and Bali home. Talk to them about custom designing a short board, hybrid or small wave performance board or pick up a soft board in a loud and proud design. You'll also find apparel and skincare in store.
2 Banksia Drive, Byron Bay
Open Mon – Fri, 9am-5pm; Sun 10am-3pm
Offering exclusive surf brands and Byron's largest range of surfboards, Surfection can help you build your dream board or even find the perfect hire board for your holiday. Since 1985, the Surfection crew have prided themselves on offering the latest surf hardware and apparel for the surfer's life. 
Byron Bay Wellness Stores
Byron Bay is Australia's wellness capital, with a colourful community of artisans and producers dedicated to elevating optimal living and helping us find balance. Here's some inspiration for take-home wellness tools and habits.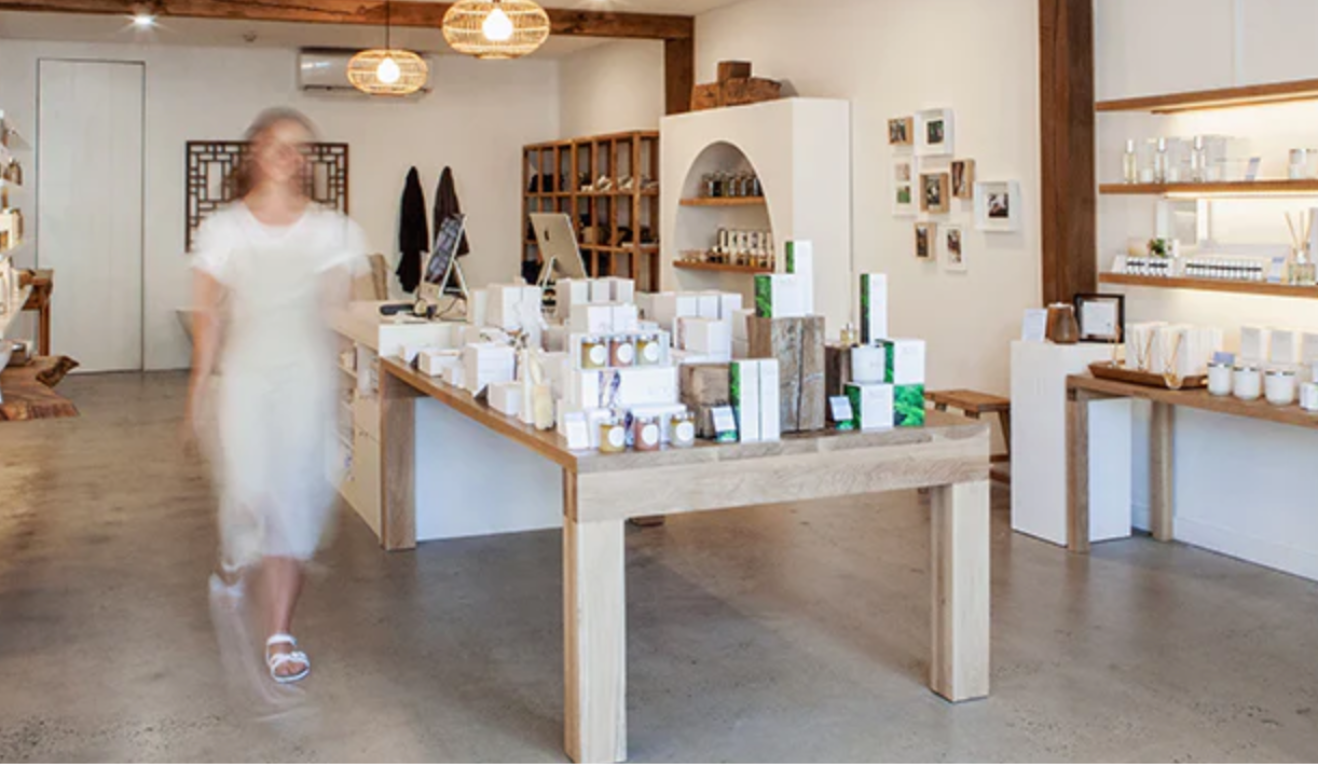 1/8 Lawson Street, Byron Bay
Open 7 days, 9.30am-5pm
Ikou is all about treating both the mind and body, by creating rituals that destress, relax and nourish. Founders Naomi and Paul Whitfeld use wild harvested Australian ingredients and ground-breaking processes that ensure potency isn't compromised. Match skincare with candles and diffusers. Take a little of your Byron Bay glow home with you, create new sacred spaces and build wellness rituals that nourish you.
3a/11 Banksia Drive, Byron Bay
Open Tues – Fri, 10am-3pm
Founder and Curator, Fleur Marks is an expert Wellness Consultant, Coach and Speaker. We love her store for its ability to take the effort out of creating well-being habits through her selection of individually curated products such as the Self Love Kit. 
9/7 Grevillea Street, Byron Bay
Open Mon – Fri, 9am-5pm
Humbly founded at Felicity Evans' kitchen table, Imbibe offers Byron Bay made, 100% natural, clean beauty products with clinical results. We love her famous (and potent) probiotic Beauty Renewal or the cult favourite Miracle Collagen.